Downloading the PDQ Connect Agent Installer
From the Devices page, select Download agent installer at the bottom of the devices list.
Note: The Agent MSI is unique for each organization.

With any of the following installation methods, it's important to note that while the PDQ Connect Agent is self-updating we do still suggest periodically updating the installer source used in deployments by redownloading the agent from the PDQ Connect console.
Manually Installing the PDQ Connect Agent
Double click the PDQ Connect Agent installer to launch the installation wizard.
Click Next and wait for the installer to run.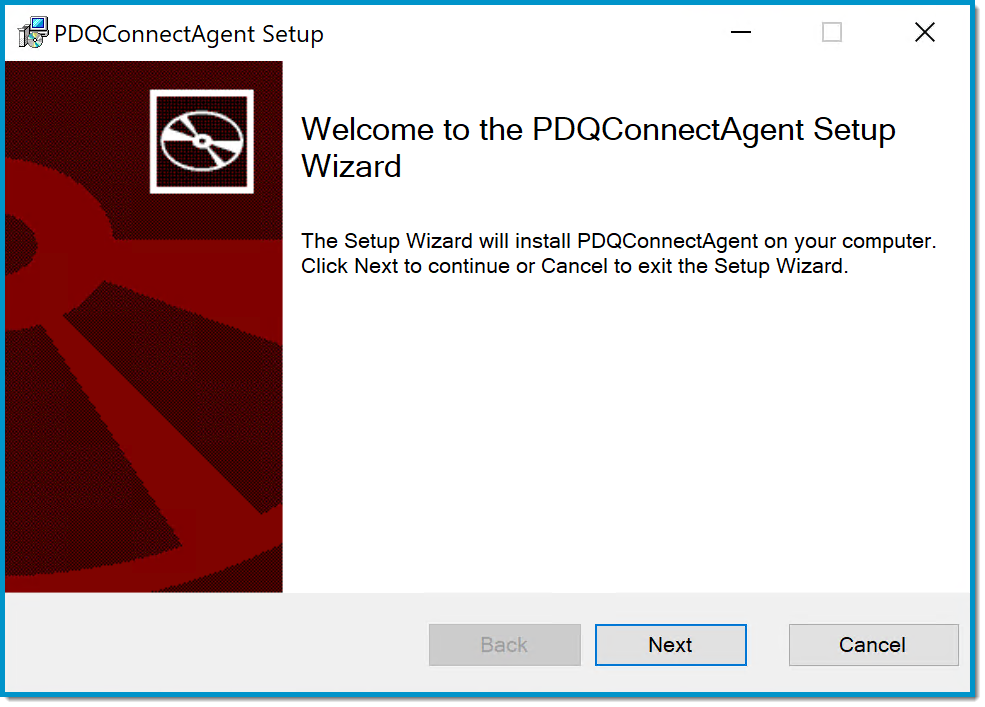 Click Finish to complete setup.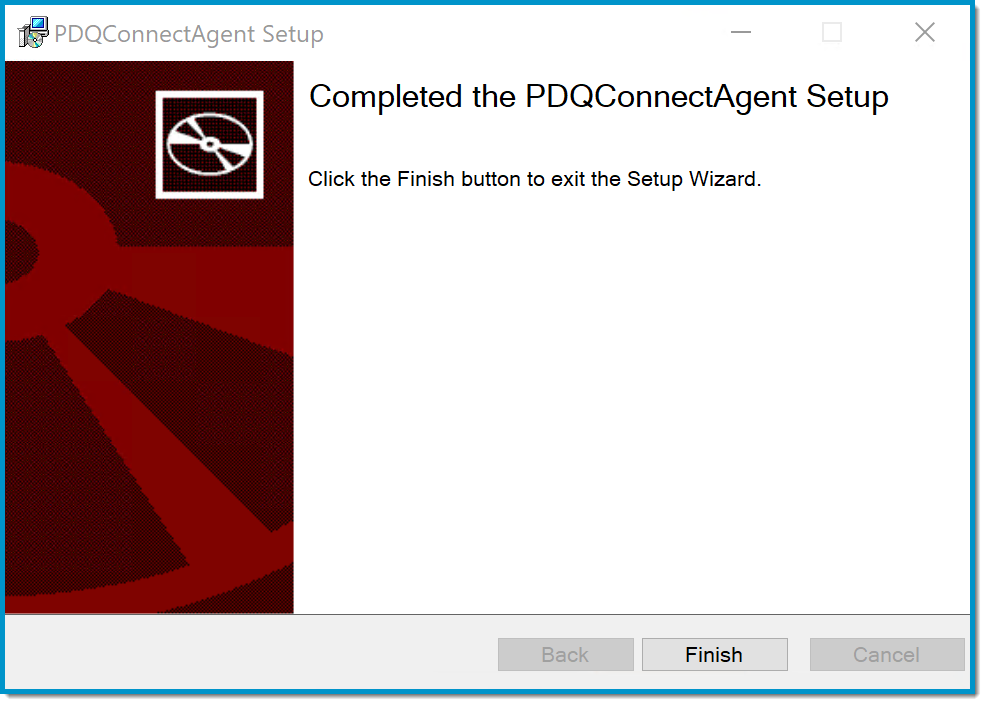 Once the PDQ Connect Agent has been installed, the new device will appear in the PDQ Connect Devices page.

Installing the PDQ Connect Agent from the Command Line
The following command may be used to silently install the agent after modifying the installer path to that of your own:
msiexec.exe /i "\\UNCPath\PDQConnectAgent-X.X.X.msi" ALLUSERS=1 /qn /norestart /log output.log
Installing the PDQ Connect Agent with PDQ Deploy
Note: This section applies to on-prem & VPN connected devices only.
In PDQ Deploy, create a new package with an Install Step. Select the PDQ Connect Agent installer for the Install File. Keep all other fields with their default settings.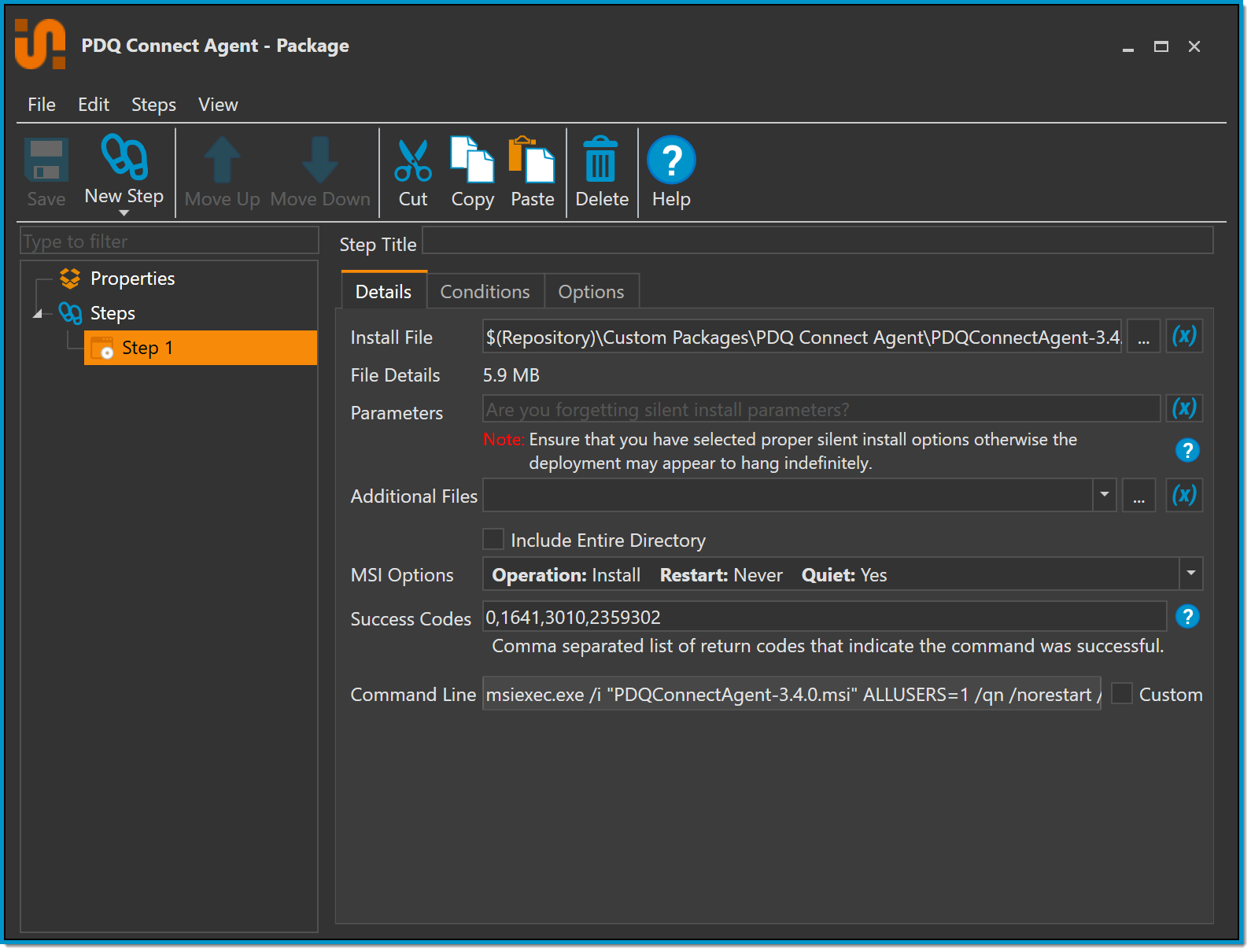 Deploy the package by right clicking the package and selecting Deploy Once from the context menu or attach the new package to a Schedule.
Installing the PDQ Connect Agent Through Group Policy
Create the Group Policy Object (GPO)
Open Group Policy Management
Browse down to the Organizational Unit (OU) that you want to deploy to
Right click the OU you want to use and click "Create a GPO in this domain, and Link it here..."
Give the GPO a name
Edit the GPO
Right click the GPO and select Edit
Browse to Computer Configuration > Policies > Software Settings > Software installation
Right click on Software installation and select New > Package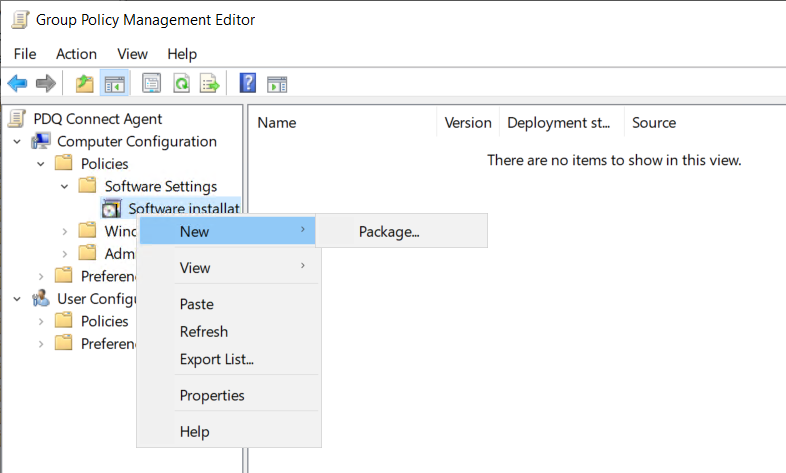 Browse to the PDQ Connect Agent .msi file from the UNC path that endpoints will have access to
Select Assigned as the deployment method
Click OK
Preparing the PDQ Connect Agent for an Image
When building the agent into an image, you'll need to delete the local agent database file (PDQConnectAgent.db) after install in order to avoid imaged machines registering in PDQ Connect with the same device ID.
Start by stopping the PDQ Connect Agent service.
With the service stopped, delete PDQConnectAgent.db from C:\ProgramData\PDQ\PDQConnectAgent and make sure that the service Startup Type is set to Automatic (Delayed Start). When a machine that was imaged comes online, the agent service will start, create a new database, and register to your organization based on the token file that is still present in the PDQ Connect ProgramData folder.