Packages Page
To view all packages in PDQ Connect, select the Packages tab from the side navigation menu.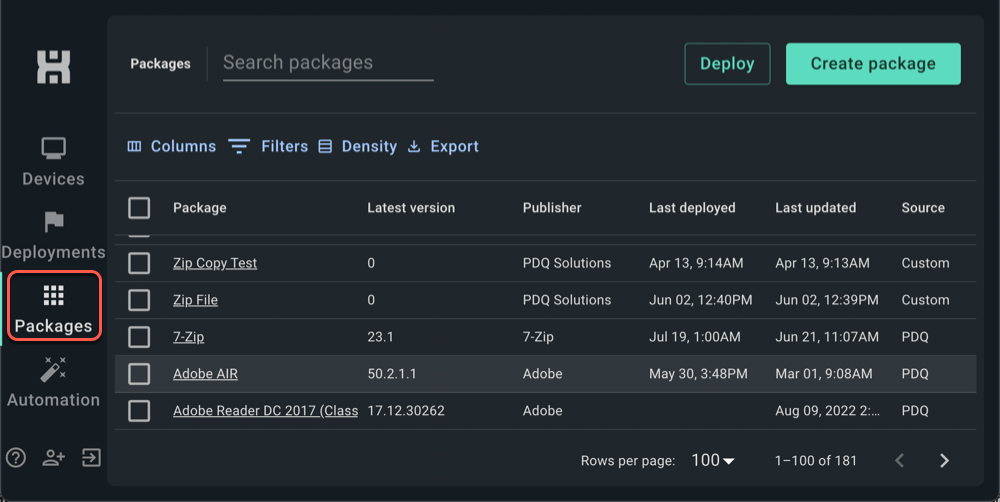 Deploy: Selecting the Deploy button will display the Deploy Packages menu, where you can search for packages and devices to create a new deployment. Selecting the Checkbox by one or more packages prior to selecting Deploy will pre-populate the packages search field with the selected packages.
Create Package: Used to build a new custom package from scratch. To learn more about creating custom packages with PDQ Connect, see Creating Custom Packages with PDQ Connect.
Packages List: All available pre-built and custom packages can be found in the Packages List.
Search Field: Use the Search Field to quickly filter the list of items on the current page. All items that meet the search criteria will be displayed in the list.
Columns: Select Columns to display a list of available columns to enable or disable. Columns can be searched using the Find Column field. Toggle the switch for a column to enable or disable it or select Hide All / Show All to hide or display all available columns.
Filters: Select the appropriate Column and Operator, then enter the desired Value to filter what is displayed on the current page. Additional Filters can be applied by selecting Add filter.
Density: Select Compact, Standard, or Comfortable to configure how the rows of a page are displayed. Selecting Compact will make the rows smaller, while selecting Comfortable will make the rows larger. The default density setting is Standard.
Rows Per Page: Select the number of rows to be displayed (up to 100) on each page.
Navigating PDQ Connect Packages
The Packages List on the Packages page will display both pre-built and custom packages.
Identifying the Package Source
Pre-built packages from the PDQ Package Library will display PDQ in the Source column of the packages list.
Custom Packages in PDQ Connect will display Custom in the Source column of the Packages List.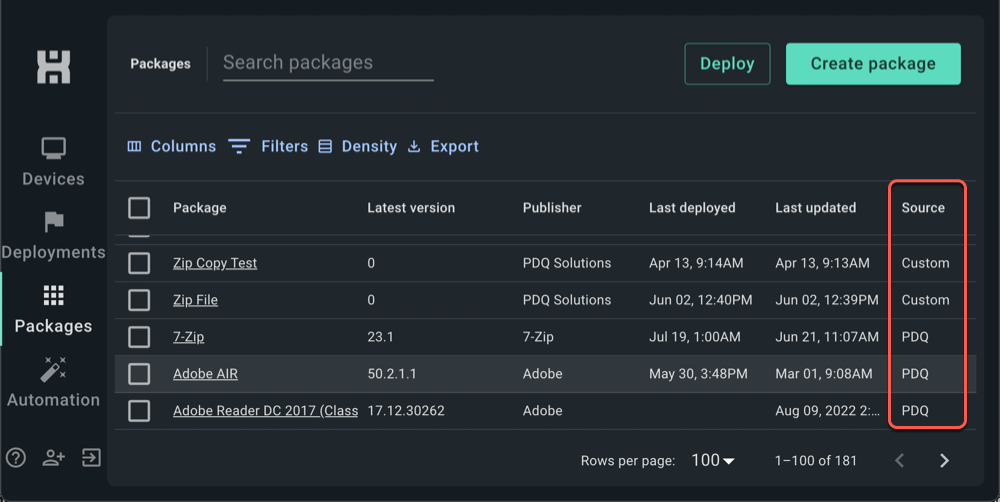 Package Versions
To view the available versions of any package, select the package's name from the Package column of the Packages List.

To view the contents of the selected version of the package, select a version number in the Name column of the Package Versions page.
Downloading Install Files
Select a step from the Steps List to view the details for that step. For packages that contain an Install Step, the install file can be downloaded by clicking the file name in the Installer field.